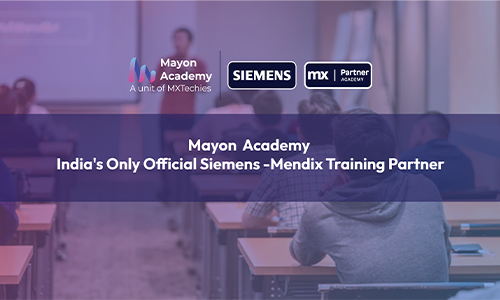 Chennai, India, Aug 07, 2023 - We are thrilled to bring you the latest update from Mayon Academy, This month has been nothing short of remarkable, and we are excited to share our achievements and offerings with you.
"I am thrilled to announce that we have achieved a significant milestone by becoming the first and the only official Siemens-Mendix partner Training Academy in India. This remarkable partnership enables Mayon Academy to offer our students world-class opportunities to excel in Mendix." said Rajesh Guruprasad, Chief Business Officer. "We are committed to shaping the next generation of Mendix innovators, and this partnership is a testament to our dedication to providing the best training experience in the industry."
What Mayon Academy Offers
Leading the Way in Mendix Expertise
Mayon Academy continues to stand at the forefront of Mendix training and expertise in India. We take immense pride in our team's accomplishments, as we boast not just one, but two MVPs and a team of five Mendix Experts who bring their extensive knowledge and passion to each training session.
Unparalleled Training Excellence
We take great pleasure in announcing that Mayon Academy remains the sole Siemens-Mendix Certified Training Partner in India. Our dedicated and highly experienced trainer holds the prestigious Siemens-Mendix Trainer Certification, ensuring that our trainees receive the best possible education and insights into the Mendix platform.
Expanding Horizons
Our commitment to empowering professionals with Mendix skills has led us to host specialized workshops and webinars to cater to different industries' unique needs. Be it app development, process automation, or digital transformation, Mayon Academy has you covered!
Enroll Now!
If you haven't already, seize the opportunity to enroll in our industry-leading Mendix courses. Gain valuable skills, certifications, and hands-on experience under the guidance of our seasoned experts.
Thank you for your massive support as we continue to grow and spread Mendix knowledge around the world. Together, let's unlock the potential of Mendix low-code and drive innovation to new heights!
Best Regards,
Team Mayon Academy
For more information, please contact:
Media Contact:

MXTechies
marketing@mxtechies.com
+1 609-454-2535
16192 Coastal Hwy, Lewes, DE 19958, USA
http://www.mxtechies.com/