Lewes, Delware, July, 25, 2022 - MXTechies is very proud to announce that our Mendix Developers have secured the top positions across 4 categories viz., Top Overall, Top Forum,Top Marketplace and Top Learning in Mendix Leaderboards. This is quite an achievement and yet another testimony for the incomparable talents of MXTechies!
Mendix incentivizes the community to participate in a plethora of activities like adding Marketplace Content, answering questions in the Mendix Forum, acquiring certifications, attending webinars, giving Mendix-related presentations etc., The primary goal for doing so is to encourage members gain different levels, points and badges and stay on the top of Mendix Leaderboardss.
There are several categories on Leaderboardss and this gamification system makes it fun to learn, build, and contribute to Mendix while the members get rewarded for their achievements.
Category 1: Top Overall - The top contributors of the last 30 days, calculated over all categories ((Forum, Marketplace, Platform, Community, and Learning). Our finest have grabbed 1st, 2nd, 3rd & 5th spot in this category!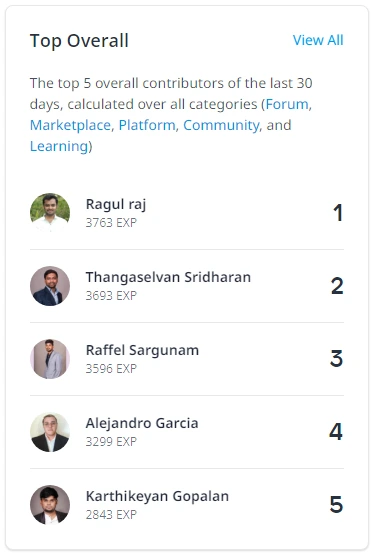 Category 2: Top Forum – In this category, members can increase their 'Forum' ranking by posting answers and receiving upvotes. In this category, MXTechies has secured the top 3 spots and also the 5th spot!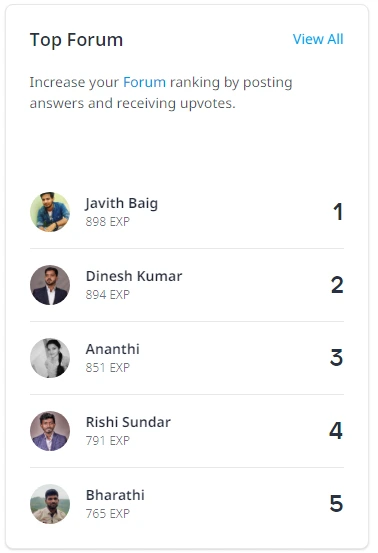 Category 3: Top Marketplace –Here, members increase their marketplace ranking by writing Marketplace content reviews and adding Marketplace content. In this category, MXTechies has got the top 4 spots!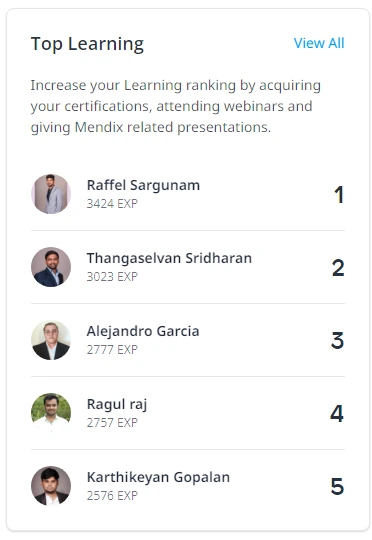 Category 4: Top Learning – Here, members increase their learning ranking by acquiring their certifications, attending webinars and giving Mendix related presentations. In this category, MXTechies has got the top 3 spots!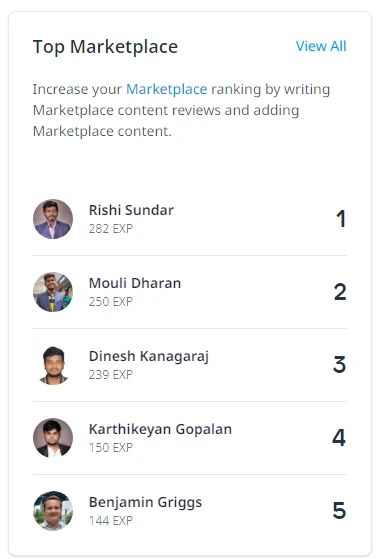 It's such an honour to be in the top position in 4 out of 6 categories, especially on a global scale! MXTechies is highly proud of its family and would love to extend its hearty congratulations to Thangaselvan Sridharan, Karthikeyan Gopalan, Rishi Sundar, Ragul Raj, Mouli Dharan, Dinesh Kanagaraj, Ananthi, Bharathidasan, Dinesh Kumar, Javith Baig & Raffel Sargunam. Thanks for making us proud and this is just the beginning of a beautiful and a fruitful journey!
Start your low Code journey with MXTechies! Shape a brand-new way of application development with our low-code expert team! MXTechies (https:/www.MXTechies.com/) has years of experience building a range of value-driven low code applications across various industries.