Consultation Through Tele Medicine
Consultation & Non-Acute Diagnosis right where you are.
Our client is one of the leading healthcare providers which offers various services and products helping people worldwide to stay healthy at every stage of their journey. One of their products was recognized as "Best innovative medical product of the year" by an esteemed network within 18 months of customer-centric launch.
The need was to digitize and improve customer experience on the services offered to the people in their day-to-day journey from the traditional offline support. The idea was to build an omni channel platform (website, mobile & kiosk-based application) to transform the way people access primary care today as a door to health care needs around the world. The product offers telemedicine on general & diet and physical consultation on specialization & dental along with online booking for diagnostics & ordering medicines. An intuitive and powerful engine to integrate with smart devices and track the health data.
MX Techies augmented their tech team as a niche solutioning partner. This solution facilitated a centralized common system with patient health data interfacing with the doctor, labs, and pharmacy seamlessly.

Rich Health Data from Providers & Self Care Apps Like Apple Health / Google Fit / Samsung Health
The client was entering the Asian continent with revolutionary telemedicine solution that enabled patient health data to not only be documented and referenceable but also facilitated tracking of patient daily health status through leveraging integration through REST APIs with health apps like Apple Health / Google Fit and Samsung Health on the grounds of Activity, Sleep, Mindfulness and Nutrition.
This provided a non-intrusive way for the doctors to analyze influencing factors, the analytics around them and arrive at a more precise diagnosis. The psychological impact was to have patients bring their self-care information under the counsel of medical experts.
Omni Channel Based Unified Aggregator Platform to Specialized Medical Providers
With the aggregator platform of specialized medical consultation and supporting providers and its integration points established, the platform was further enhanced for customer experience through making it available through Omni Channel means like web based, mobile and kiosks.
The business model was enhanced through the accessibility, ease and variety of authorized providers strengthening the reputation of a trusted brand.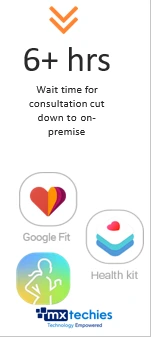 Benefits
Agile/Scrum
Tech Stack; Angular, .Net, iOS: Swift5, Android: Java 8, MSSQL, JIRA